The power to become whatever and whomever you decide, and the realization that you actually have this power, is one of the greatest gifts a person can give to themselves.
Classroom Achievements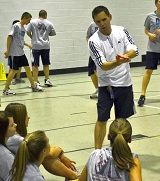 Kirk's achievements in the classroom include being twice selected as DuPage County Physical Education Teacher of the Year. He was also nominated for and awarded the Eastern Illinois Teacher Excellence Award. Kirk has also been an inaugural and continuous member of his high school's Wellness Day Committee, whose sole purpose is to promote and develop healthy choices for teens through an annual wellness day fair, which includes activities and demonstrations to help encourage healthy lifestyles among students. Kirk has also been a member of the IAHPERD (Illinois Association of Health Physical Education Recreation and Dance), which is dedicated to the promotion of the quality of life through fitness and wellness
As an educator, Mango is on the front lines when it comes to student and young athlete attitudes, behavior and trends. The sum of his knowledge and experience, coupled with his daily contact with kids and teens, gives rise to his passionate belief that there is so much more for today's kids to achieve-and it is his intention, through this book, to help show them the way.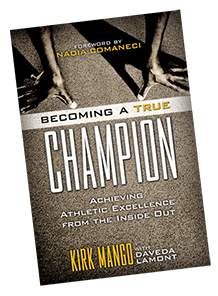 Greatness, whether athletic or otherwise, doesn't come from those content on just being, but from those who seek being the difference.