The power to become whatever and whomever you decide, and the realization that you actually have this power, is one of the greatest gifts a person can give to themselves.
Coaching Accomplishments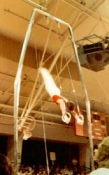 Kirk's ability to translate his athletic and academic experience and knowledge into real-life results for others is shown in the success of the athletes and teams under his direction. He has coached girls' gymnastics teams to three conference championships, four regional championships, one sectional championship and three Elite-Eight IHSA (Illinois High School Association) state championship competitions.
Not only have his teams been successful, but he has also coached numerous individuals to IHSA state competitions. The most prestigious of his winners, Stephanie Grygiel, won the IHSA State Championship on the vault in 1991 and earned a second place finish in both the all-around and the vault in the subsequent season. Under coach Mango's direction, Stephanie went on to earn herself high school All-American honors, selection as a key member of the state of Illinois gymnastics team that won the NHSGG (National High School Girls Gymnastics) Championships in 1992, and a full ride scholarship to Western Michigan University for gymnastics. Most recently (2004), and with coach Mango by her side, she was the first female gymnast ever inducted into the Downers Grove South High School Athletic Hall of Fame.
About Kirk's coaching, Stephanie wrote: 
"I was not always confident in my abilities. A modest athlete, I did not believe in my talents. I needed to be pushed, pushed further beyond the point when most coaches would have lost interest. Coach Mango never gave up…Maybe Coach Mango was so tough because he knew I could do more and reach higher. He helped me learn that potential could be limitless, that anything is possible. He told me many times that I was capable of earning a state championship and I never believed him-until it happened."
Kirk's success as a coach made possible his selection by his peers as the IHSA Girls' Gymnastics Coach of the Year in 1992 and gave him the opportunity to coach the Illinois state gymnastics team, mentioned above, which won the NHSGG Championships that year.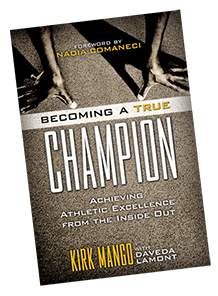 Greatness, whether athletic or otherwise, doesn't come from those content on just being, but from those who seek being the difference.