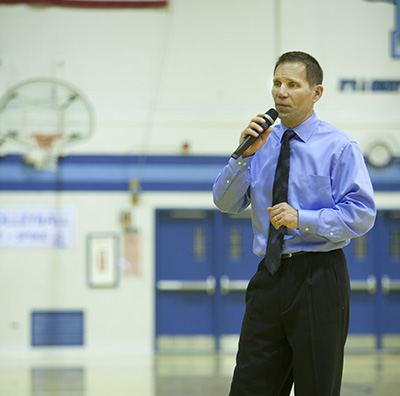 "No matter the goals you set, the path you choose, or obstacles you face, the basic principles of true success will always be the same…and they ALWAYS start and end with YOU."
Kirk Mango
National Champion
Three-time All-American
Three-Time Hall Of Famer
Your book was really inspiring to me. It showed me that with hard work, all my goals are attainable. It had many points and tips that I'm using right now in my athletic career. It showed me how to cross the line from an "okay" athlete to a champion. Not only was it a guide to show athletes how to step it up to the next level, but it also taught about integrity of an athlete, something I think athletes need to take as seriously as they do their sport. All athletes at all levels should read this book — I feel that anyone who reads it will be able to use it and apply it to their careers.
Becoming a True Champion is well written and has a positive message that young athletes can understand and relate to. I found myself making personal connections to the topics discussed throughout the book. The division into the sections lets you break down the process of becoming a champion and focus your attention on the specific aspect being discussed: readers have to get acclimated with mindset and intrinsic values, then apply those to their situations, and then see how the concepts apply to Kirk Mango's story.
"The areas that helped me the most were the CDSPH principle, training and the competitive mindset, quantity versus quality, and the Triangle of Achievement. The book clarified these topics for me and I am now able to apply them to my own training as an athlete aiming for greatness.
"I found the 'My Story' section to be very helpful. It gives an example of the concepts already discussed in previous sections and clarifies them more. Also, as a story with emotions, it was interesting to read.
"I also really enjoyed the inspirational poems spread throughout the book, and especially connected to 'Who Am I? The Libero Code.' This piece was very motivational for me.
"Overall, Becoming a True Champion gives readers the opportunity to change their mindset and training so they can become champions in all the ways listed at the beginning of the book.
I felt that Becoming a True Champion was an excellent book that relays the perfect message for any athlete. It is a great book for the elite athlete in that it conveys that you can never work too hard and that any goal you want to reach is attainable. Athletes who have a true grasp and understanding of what sports and achievement are all about can easily relate to the information in the book, as well as Kirk Mango's story at the end. And I think this book might be even better suited for average level athletes who have a true passion for their sport, but haven't quite achieved the success they want. This book will inspire them to ignore their critics and doubters as well as to work harder than they ever have. They will see that they are in control of their own success.
"The 'My Story' section of the book was my personal favorite. It completely vindicates and validates all portions of the book up to that point. As a future Division I athlete, I can honestly say I work as hard or harder than pretty much everyone I encounter. This book made me want to work even harder than that. I now see there is no limit to how hard I can work or how good I can be. Thank you for the privilege of reading this book.
My Story was my favorite part of the entire book. I think it was so awesome that you put so much hard work and dedication into something you were unsure of. Your story is inspirational and very worth reading.  Another part I liked was Attitudes That Lead to Eventual Failure. I was having an 'off' day for volleyball, but after reading these pages, I realized that this generalization was an excuse for poor performance and a low attitude.